In 1996, when ICH GCP E6 (R1) was introduced, the clinical trials process was paper-based, and spreadsheets served as the primary manual computation and compilation tool for managing various clinical trial processes.
Now almost two and half decades later, with the industrial adoption of revised ICH GCP E6 (R2) guidelines that recommend the usage of technology solutions, we have witnessed improved and efficient management of many aspects of clinical trial operations.
One such area that has benefitted from automation is how the sponsors today ensure site compliance to regulations and protocol adherence through interim on-site visits and perform the aftermath of resolving monitoring visit findings – the so-called 'Action Items'.
The Action Items in Clinical Trial Monitoring
The To-Do Lists received by the clinical trial sites from Clinical Research Associates (CRAs) are often referred to as "open issues" or "action items".
Action items are identified during routine site monitoring visits or remote clinical trial monitoring and often cannot be resolved immediately without consistent follow-up. CRAs and clinical site staff work together to address and resolve action item-related issues in a time-bound manner.
In an ideal scenario, action items are resolved before the next monitoring visit. As a time to resolution is a critical operational factor, CRAs brief the site team regarding the issues so that the site team can get started before the formal SMV follow-up letter arrives.
However, this does not occur often, and few action items are resolved over subsequent monitoring visits, despite the best collaborative efforts. The old unresolved action items get invariably clubbed with new action items, and the process continues.
The Traditional Approach to Action Item Management
Traditionally, the sponsors/CROs spend lots of time and energy conducting clinical trial monitoring visits and capturing data that reflects due diligence in reporting clinical site compliance.
CRAs write lengthy and elaborate SMV reports and issue follow-up letters to sites enumerating visit findings and all action items that require on-time resolution.
But the show does not end here.
Effective site monitoring requires rigorous follow-up to ensure all open issues are effectively addressed, closed, and documented. Tracking action items is tedious and labor-intensive not only for the CRA but also for the Clinical Research Coordinator (CRC), who is constantly juggling between multiple studies and numerous other trial-related emergent day-to-day issues/tasks.
Efforts toward Effective Action Item Management
Until recently, CRAs utilized different methods to record and track action items.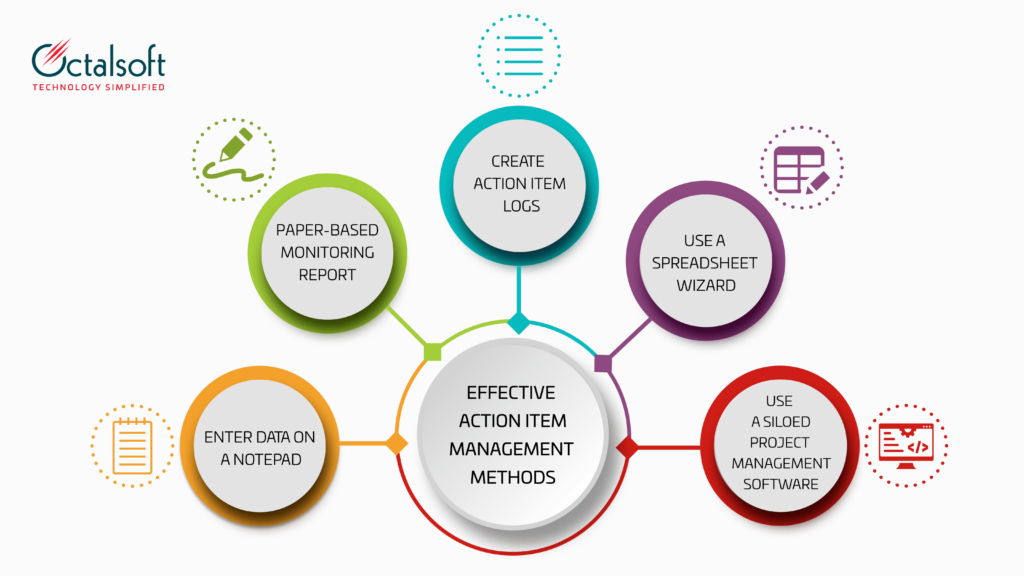 The above-stated methods assist you in tracking the below-listed matrix,
Date of creation of the action item

Action item description

Assigned to detail

Estimated timeline for completion

Date of closure

Action item status
CRAs perform the mundane tasks of going through the paper-based SMV reports and the action item log/spreadsheet regularly to track the action items until completion. The process further involves on and off communication with various clinical sites to confirm the completion status and verify the effective resolution of the action items.
Moving Towards Efficient Action Item Management in Clinical Trial Monitoring
Thankfully, using a cloud-based Clinical Trial Management System (CTMS) is a more efficient approach to managing action items compared to traditional methods.
The CTMS system has not only replaced traditional trackers but also offers improved reporting features that can identify trends and measure site compliance and performance automatically. As a result, it provides valuable insights that allow you to make data-driven decisions.
Furthermore, it has the capability to retrieve SMV reports using multi-variable matrices, combine and standardize all pertinent data, and extract necessary information.
Metrics to Measure
The following is a comprehensive list of features that can help users in managing site/sponsor compliance to open item management in a holistic manner –
Configure and design monitoring visit checklists/questionnaire/report form fields to categorize and capture action items.

Automate the generation of trackable action items based on CRA responses to form field questions.

Create a dashboard visualization of all action items such as – time of creation, assigned to, description, completion timeline, and open versus closed status between monitoring visits.

Ensure record-level traceability by linking action items to originating site monitoring visit (SMV) reports.

Integrate action item information into the subsequent SMV report to provide continuity and transparency between visits.

Auto-assign or delegate action item tasks to responsible parties including instructions and due dates for completion.

Deploy an alert mechanism to send email notifications to assigned team members of action item workflow events including aged action items, escalations for resolution, analysis for recurrent issues, and problem-solving to prevent reoccurrence.

You can link action items to apply protocol deviations, AE/SAEs, note to file (NTF), or

Corrective And Preventive Action

(CAPA) reports for issues raised and resolved via an integrated task completer. The system anticipates and closes action items automatically based on relevant entries that you make. For instance, if you cross-link the SAE resolution date, IRB acknowledgment of protocol deviation, and completion of a pending training module, the action item will be marked as complete automatically.

Link action item reports across visits and sites for reporting and analyzing quality trends for site compliance.

Create a risk-based site quality indicator dashboard based on targeted action items categorization and threshold.
Conclusion
Action items that go unresolved may pose a risk to subject safety and data integrity. They may leave the site and the sponsor at risk for being out of compliance with the protocol, SOPs, IEC policies, GCP guidelines, and applicable regulations.
However, a smart and efficient CTMS can help sponsors not only achieve quality and compliance but also minimize risk and cost in clinical trial monitoring.
Octalsoft's cloud-based, mobile-enabled CTMS solutions provide a comprehensive platform for planning your trials, efficiently managing them and bringing studies to a successful conclusion.
Would you like to learn more about it? Let's schedule a demo.
Ready to power your next clinical trial with groundbreaking tech capabilities?